The Bighorn Crags are a fisherman's dream. This vast rugged area containing more than 40 high mountain lakes, rises from 3,500' on the canyon bottoms of the famous Salmon and Middle Fork Rivers to over 10,000' on Mt. McGuire. Rainbows, cutthroats, graylings, and brook trout as well as the elusive golden trout abound in this area.We have high mountain lakes with fantastic fishing, rugged canyons with pristine streams and secluded hot springs.
Spot Pack - Gear Drop
We pack in your equipment and supplies to the wilderness site of your choice. Then on a prearranged date we will return to meet you and bring you and your gear back to the Bighorn Crags trail head. We limit our spot packs to a distance we can reach and return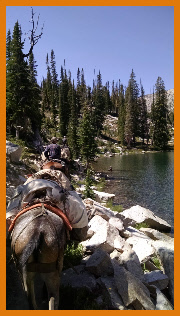 from in one day. If a more remote destination is requested the rate will be adjusted accordingly. We will customize to meet your needs and desires.
Guide and horse
$200.00 per day (handles up to four head) Riding and pack animals $160.00 per day
(pack animals carry 150 to 175 lbs.)
($680 Minimum)
F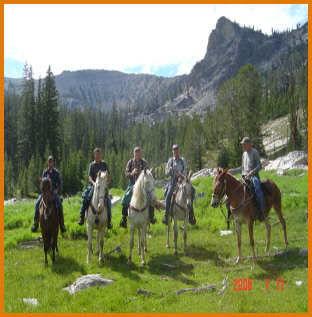 ully Guided Pack Trips
We have the trip for you!!!! Our full service trips feature campfire cuisine, capable and friendly cooks, guides and wranglers. We know how to make your trip a pleasure you will never forget. Traveling through the beauty and grandeur of the River of No Return Wilderness in the Bighorn Crags, you will experience some of most fantastic scenery on this continent. We can tailor a trip to meet your wishes. You are encouraged to spend your time pursuing "your" interests - ride, fish, hike, climb, identify flora and fauna, photography, or just relax. Menus can even be adjusted to fit your group's taste. Be sure to let us know at the time of booking. Our trips are full-service - just pack your personal gear and come visit Idaho's majestic mountains from the comfort of horseback.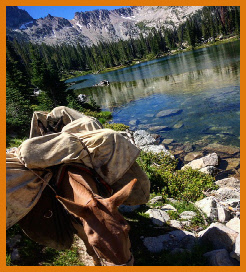 4 person minimum for a fully guided trip (if you have less please contact us)
Wilderness Horse Pack Trip- $325.00 per day per person (kids 12 and under $180/day)
This trip is designed for the person who is most interested in horseback riding to the different lakes. Horses are left in camp for your trip.
Roving Pack Trip-$450 per day per person
This trip is the same as the Wilderness Pack Trip but you will move camp part way through the trip.
Back Pack with Horses-$290 per day per person
On this trip we will supply camp, cook and guide. You will be packed in on horses then you will hike for the rest off your trip until your are picked up on horses for the trip out.
Camp with Cook Only- $270.00 per day per person
This trip is designed for the person who enjoys the comfort of a first class mountain trip but would just like to have someone cook for them. We supply everything on this trip as we do on our wilderness pack trips except a guide and a saddle horse for you.
Base Camp Trail Rides- $220 per day per person
This is for the person who wants a little more comfort. You will stay at out base camp in the Bighorn Crags. Our base camp consists of wall tents with wood floors, cots, and a hot shower. You can take day rides on horse back, fish mountain lakes or just relax.